Olive Telecommunication, a leading Convergence Solutions Device Developer recently launched two new devices at an event in Mumbai. The first device is
Olive Nexus V-R9
, a travel router in-built with
Lithium Ion battery
while the second device is
Olive Genie V-ME150
, a multi-purpose modem with a compact design.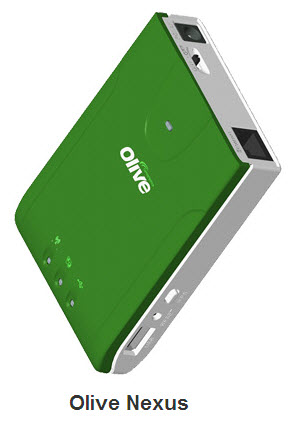 Mr Arun KhannaKhanna, Chairman, Olive Telecommunication, said "At Olive, innovation is a key driver and it is our constant endeavor to offer new, cutting-edge technology-driven products that deliver on the needs of our consumers. After the successful launch of India's first Hybrid Mobile Phone, we are extremely proud to launch the Olive Nexus and Olive Genie. These products promise to un-complicate and un-clutter the lives of our consumers and create a new benchmark in convergence products. We are also very proud to partner with an industry leader like Tata TeleservicesTata Teleservices Limited in an alliance that will strengthen the availability of our products in the relevant markets."
Mr Anil SardanaSardana, Managing Director, Tata Teleservices Limited, said "This is another step in our continued association with Olive Telecommunication, whose products are innovative and meet the ever-changing requirements of our consumers. We are confident that in today's competitive scenario, these products will add to the

customer experience

and enhance our portfolio of high-speed

data access

offerings."

Olive Genie V-ME150
is a multi-purpose modem that comes with
MicroSD cardMicroSD card
slot with storage expandable upto 32GB. It also has music player and FM radio. It allows you to send and receive smses in voice or online mode. Olive Genie is compatible with both Windows and Mac. With the help of this device, you can not only connect to the internet but you can also listen to your favorite tracks on the go.
Olive Nexus V-R9
is an innovative device that helps you to create a secured
Wi-Fi networkWi-Fi network
. Thanks to its compact design, you can carry it anywhere while travelling. All you have to do is just connect a
USB modemUSB modem
to the device and you can use the Wi-Fi in your laptop, mobiles or any other Wi-Fi supported device.
Olive have also promised to launch 2-3 new handsets every month. They will also launch Windows Mobile and Android powered devices in the coming months. The price of Olive Nexus and Olive Genie are not available yet and it will be available at your nearest retailer and Tata Indicom outlets within few days.
http://tiny.cc/six7y